May 26th, 2013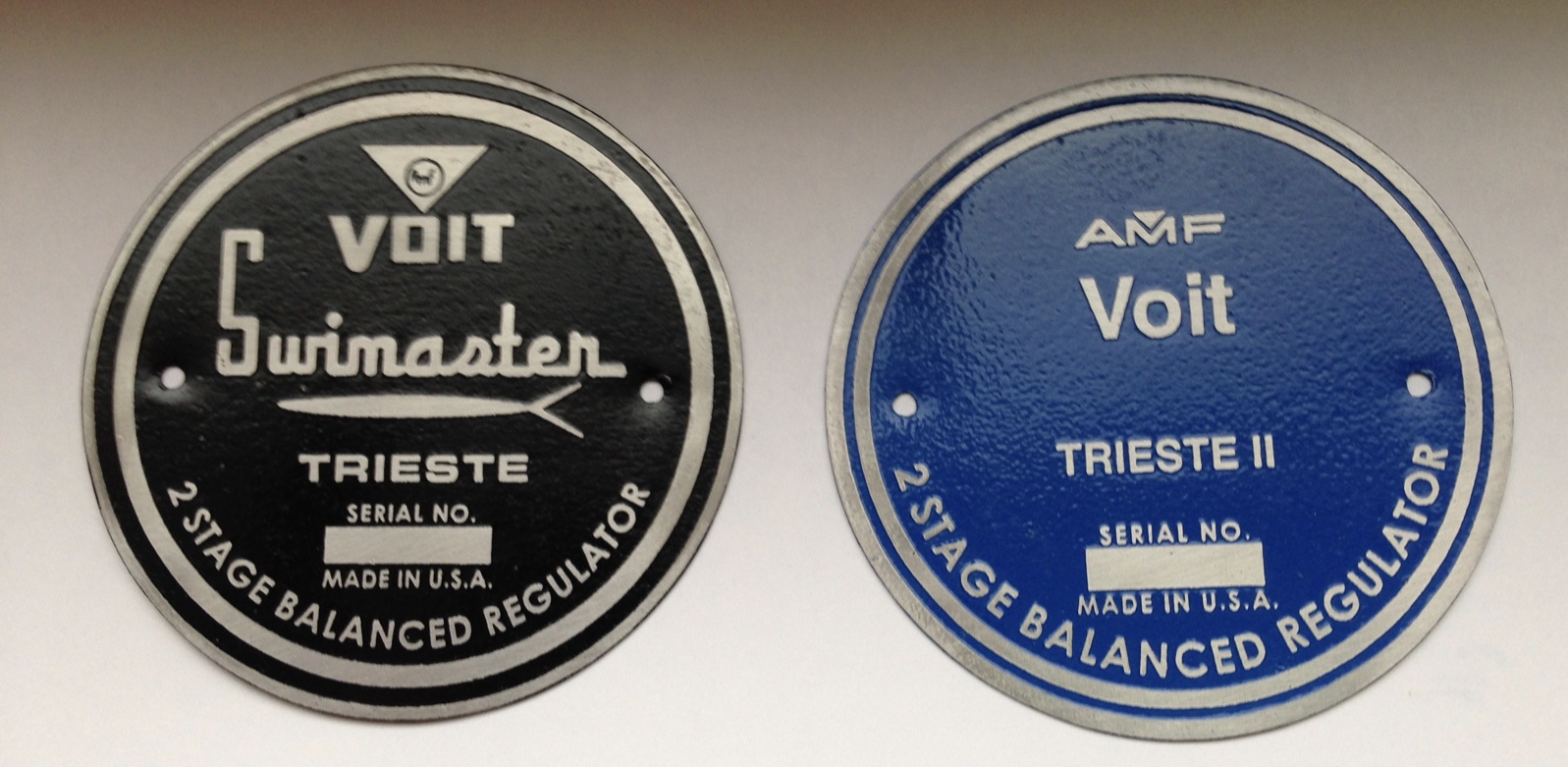 REPRODUCTION REGULATOR LABELS
A & D Adventures, LLC is proud to present a series of labels for double hose regulators.  These labels are made from stainless steel or brass depending on the model.  We have tried to reproduce the labels to compare favorably to the originals.  If an original label had a serial number on it, we have left that area blank for the purchaser to have engraved whatever they choose.  We do NOT do the engraving, but do suggest your local sports trophy shop or jeweler for this work.  Some of the labels are adhesively attached.  We supply 3M VHB tape for this purpose.  All necessary instructions for attachment and care are included.  We are constantly producing more models for vintage regulators.  If you do not find the one you need, contact us and we might possibly be able to have that one made.
SPORTSWAYS MODELS
  Sportsways Hydro-Twin II  Black                   Sportsway Hydro-Twin II Orange
      Sportsways Hydro-Twin                    Sportsway Dual Air
HEALTHWAYS MODELS
  Healthways Scuba and Scuba Deluxe                    Healthways Scuba (Gold Label)
US DIVERS
            CG-45                                                Aqua-Lung (Trade Mark/Broxton)  RED
Aqua-Lung (Trade Mark/Broxton) Green        Aqua-Lung (Trade Mark/Broxton) Black
          DA Aqua-Master W. Pico Ave                 DA Aqua-Master West Warner
                 (Comes in Black or Blue)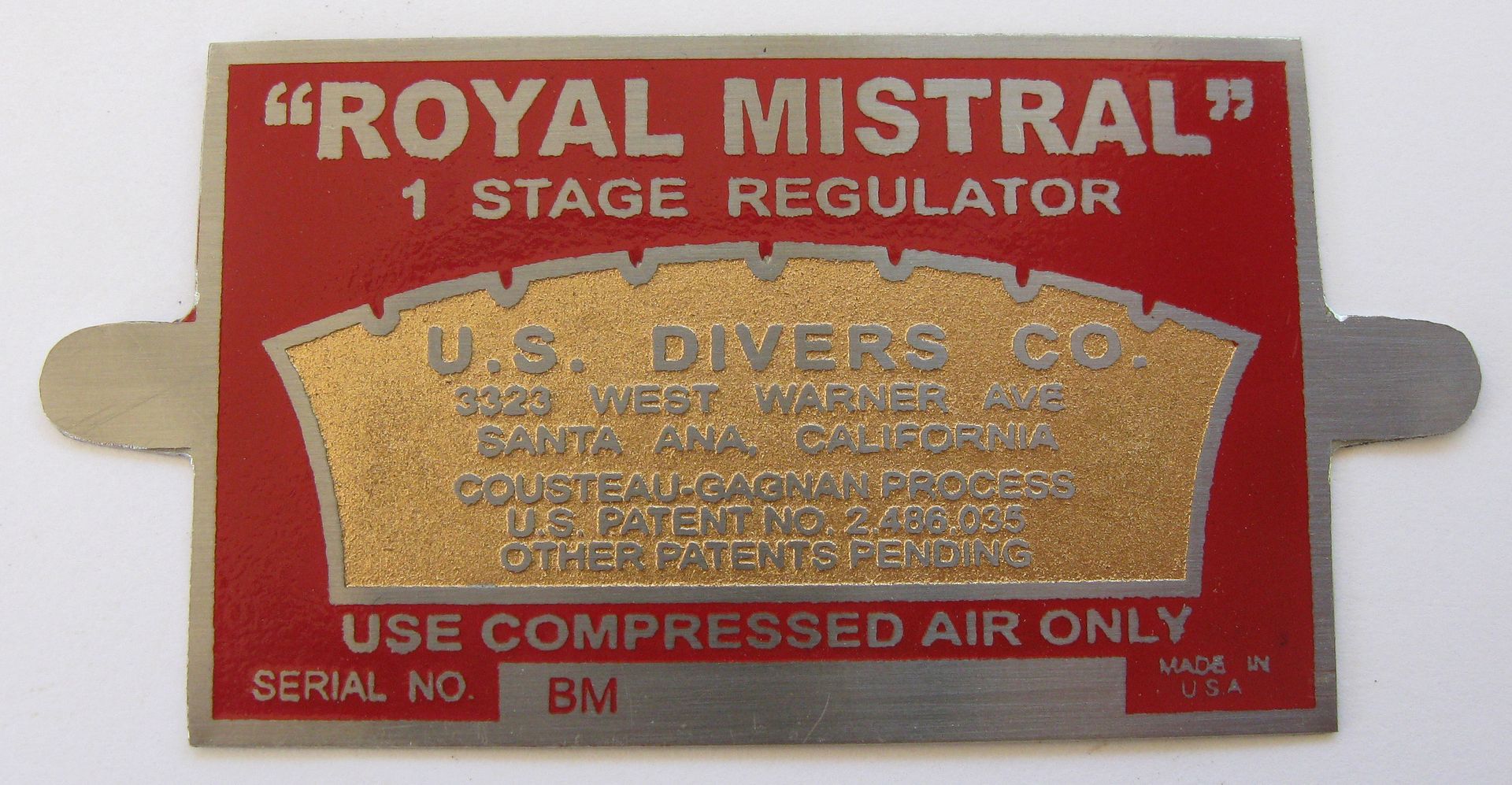 DA Aqua-Master Round Label                           Royal Mistral
                       Royal Master                                             Royal Aqua-Master
Round Label Royal Aqua-Master                          DW Mistral W. Pico Blvd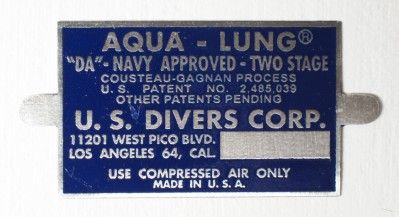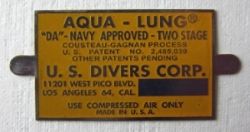 Blue                                                       "Yellow-orange"
"DA" Navy Approved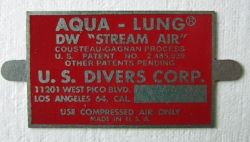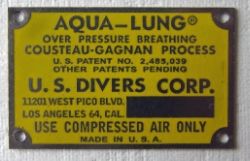 DW Stream Air                                                                        Over Pressure
Phoenix Royal Aqua-Master Series
The Phoenix nozzle developed by Luis Heros and marketed by www.vintagedoublehose.com produced a long awaited change for double hose divers of today.  This nozzle replaces the first stage of US Divers and Voit 2-stage regulators with a unit that provides a balanced first stage with ports for both low and high pressures accessories.  With the Phoenix, a diver could attach all the items necessary for diving with modern features, including SPG, inflator hose for BCs and alternate or second single hose regulators.  We produced a line of labels to feature the Phoenix Royal Aqua-Master logo.
Recently a new second stage was produced which replaces the second stage on US Divers and Voit 2 stage Regulators (DA Aqua-Master and Later) as well as an equipped Phoenix.  Thus, a new label to note this replacement was made for the Phoenix HPR Royal.
Both rectangular and round labels are available in black or royal red.
The HPR second stage module is available separately from www.vintagedoublehose.com.  It is applicable to many US Divers and Voit 2-stage double hose regulators.  Once fitted with the HPR, the regulator will breathe better than with the original second stage.  We made a small HPR label to be put on a regulator with the new second stage.
Voit Labels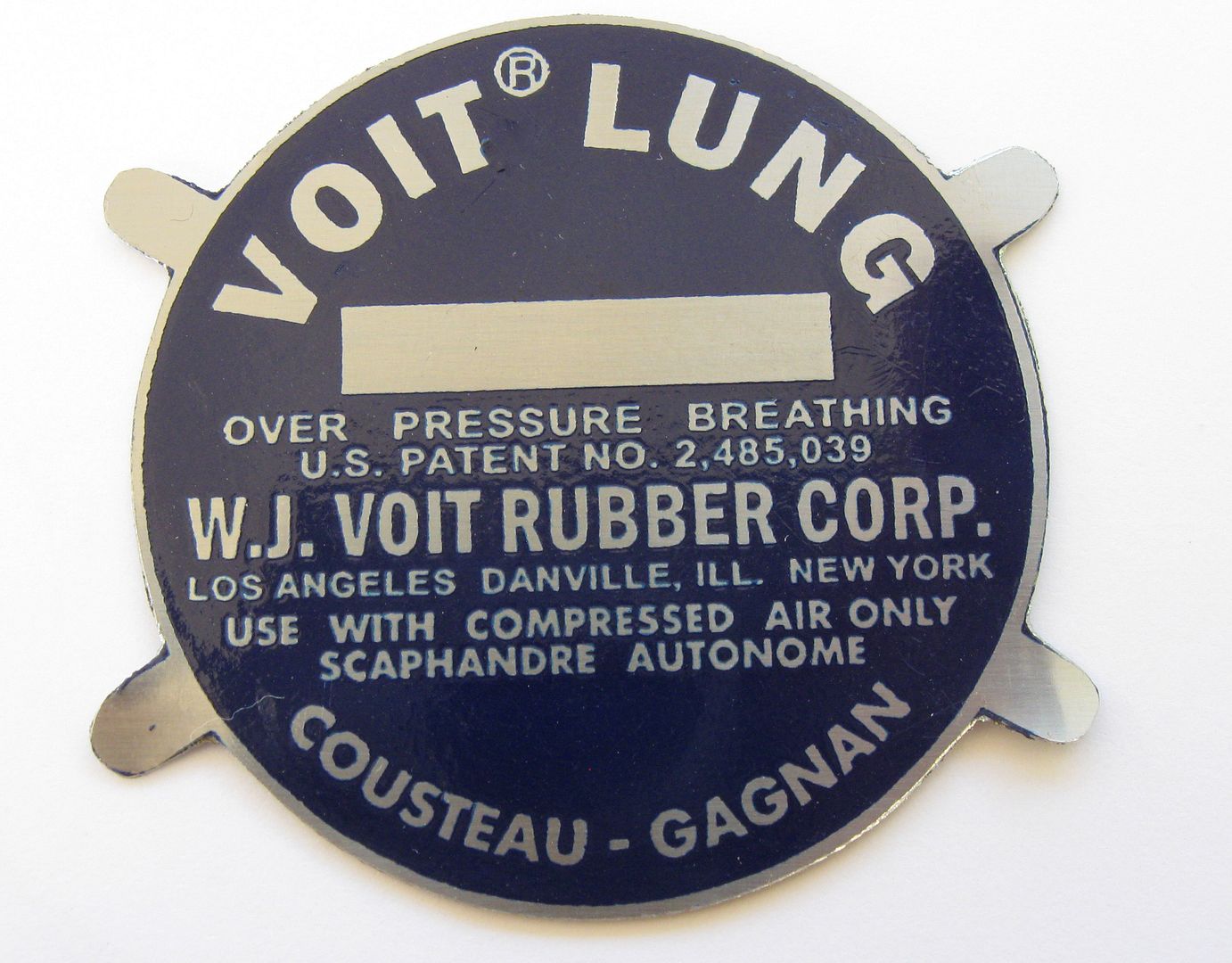 Voit Lung available in green or blue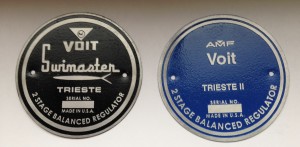 One of a Kind, Close-out Labels
La Spirotechnique                                    Kawasaki DA Aqua-Master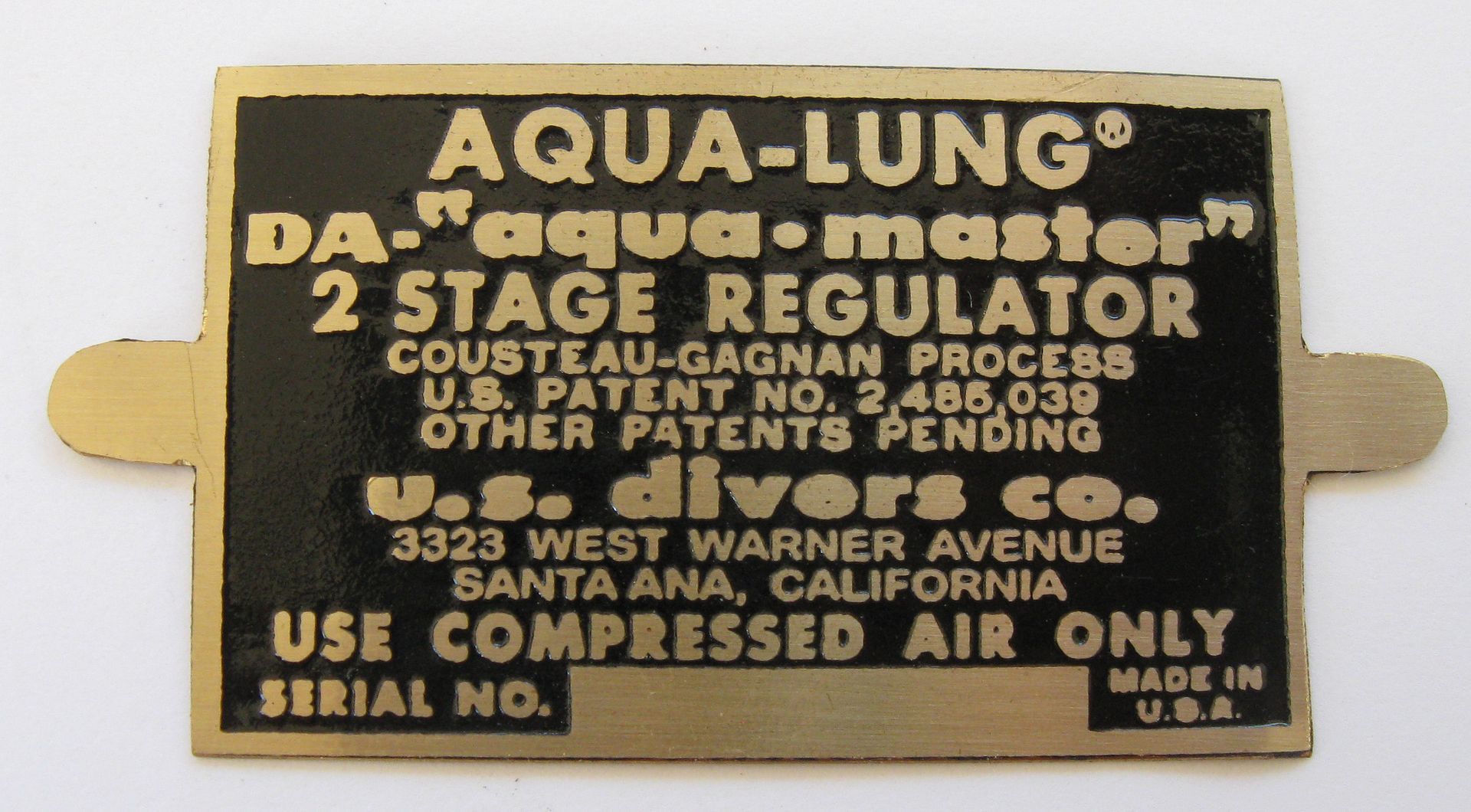 Back in stock and with tab     
                                        Non-Mag DA Aqua-Master
Vintage Style Lead Weights
Our lead weights have the same style as those available in the 1950s and early 1960s.  They are available on a limited basis.  Contact us for shipment details and selection.
         1# for 1″ Belt
Buckles and Belts
We have available wire weight belt buckles in both 1″ and 2″.  The 2″ buckle is supplied by Trident. Belt material is 1″ or 2″ cotton or nylon (nylon maybe on special order) in various colors.  Please contact to see availability.
"Other Stuff"
Miscellaneous Vintage Diving Gear
At any given time we have many different pieces of vintage dive gear.  We will try to keep a listing of available items.  If there is something you desire, let us know and we may have it or we know of someone who does.  Worst case is that you ask and we have to say, "Sorry, this one is beyond our help".  Nothing ventured, nothing gained.