June 20th, 2013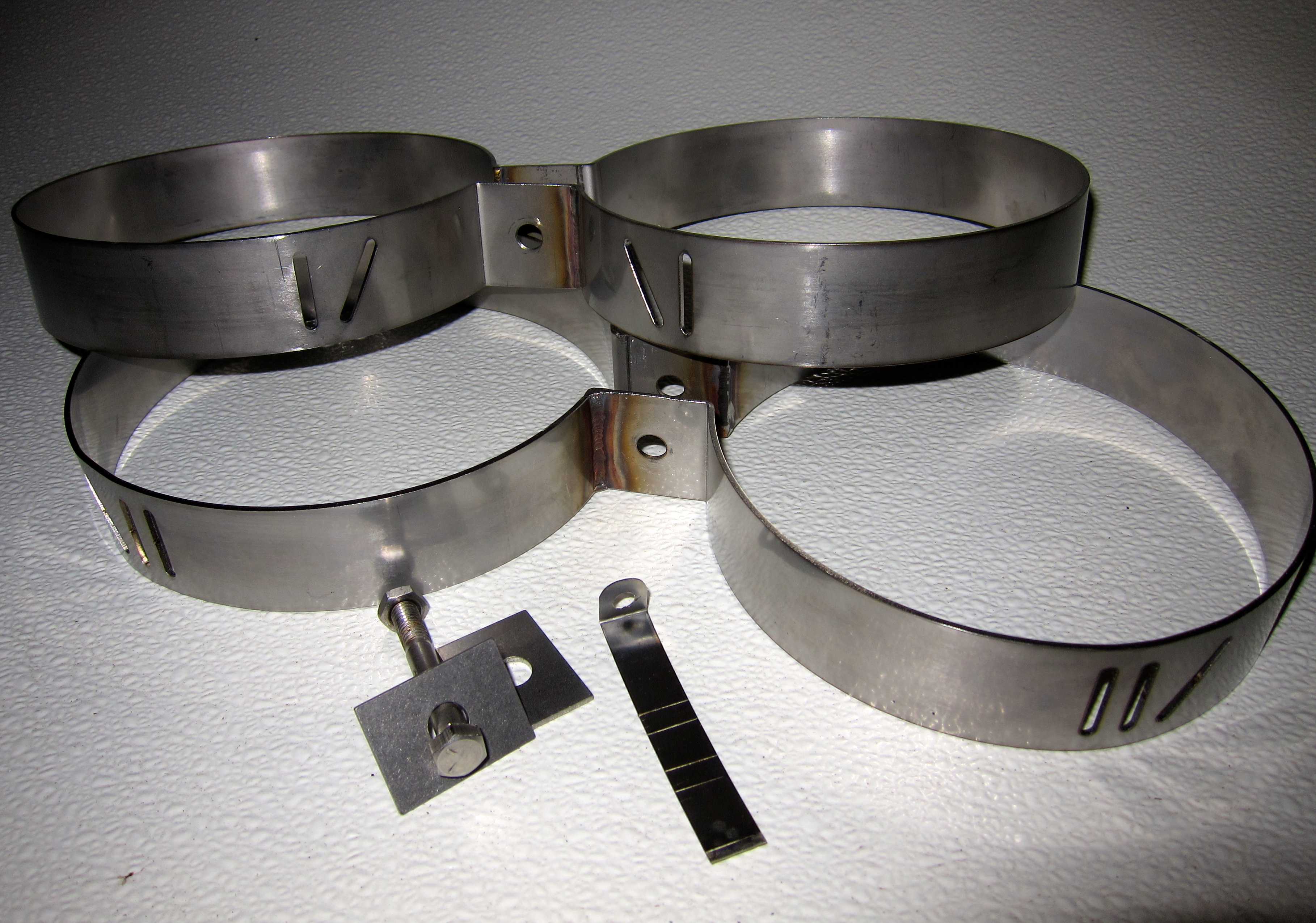 At any given time we have many different pieces of vintage dive gear.  We will try to keep a listing of available items.  If there is something you desire, let us know and we may have it or we know of someone who does.  Worst case is that you ask and we have to say, "Sorry, this one is beyond our help".  Nothing ventured, nothing gained.
NEW, NEW
J- ROD HOLDER
This is a universal J-Rod holder designed to hold your J-Rod where you like it.  Slip your rod through the 1/4″ hole and then place in your chosen place under one of your harness/backpack bands.  The holder is 0.031, 304 Stainless Steel and can be cut or bent to you liking.  Price $3.00 each with $2.75 shipping to US Address for up to 2 holders.  Contact us for quantity shipping costs.
NEW, NEW
DOUBLE TANK BANDS
After many years of unavailablilty, double bands are now here.  Stainless steel, with proper slots, and size for tanks that are of 6.9″ diameter (71.2, 38, 42, 50 Steel, 45, 50 Aluminum).  Included with the bands are 2 5/16 X 2 1/2″ stainless bolts with nuts, 2 rectangular washers, 1 J-Rod stainless holder.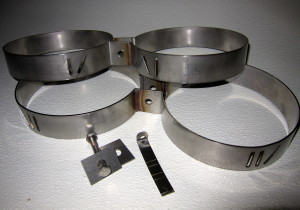 Introductory price is $85 for the set plus shipping to you via USPS Priority Mail.
Tank Valves
Tanks valves are constantly coming and going for A & D Adventures, LLC.  Currently the following valves are available.  The valves have NOT been rebuilt.  That service can be done, so contact us via aandd_adventures@yahoo.com for price of rebuild.
The price for the valve is $15 each and can be shipped for $6 for US customers.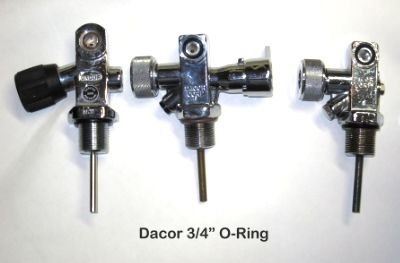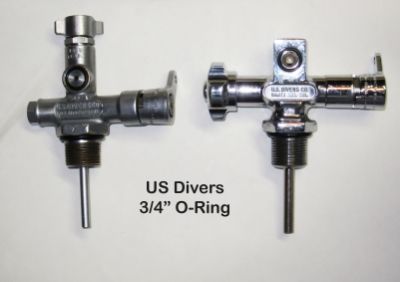 The next valve is a bar used to connect two tanks to form a double.  Called a Cheater Bar, this one is a later valve with a rating of 4000 psi.  The price on this one is SOLD plus shipping to your address.SOLD SOLD SOLD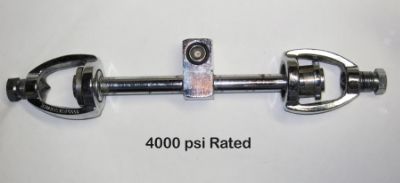 Masks, Fins, rubber goods
Healthways Sea Vista Mask
Excellent condition, clear glass, rubber skirt great, just spit, rinse and dive it.  Box is original but not to this mask.  Mask fits nicely, however.  $20 plus shipping.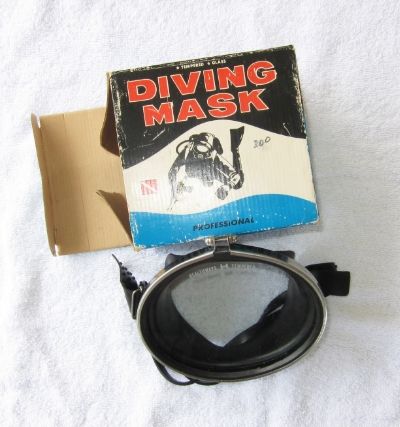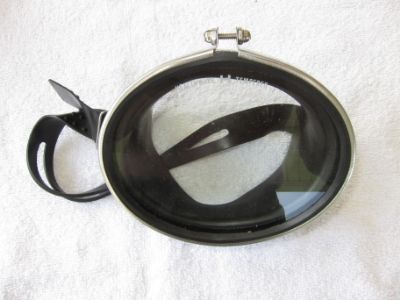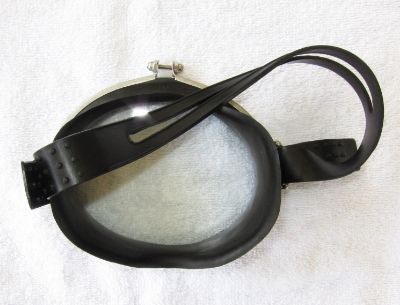 SOLD, SOLD, SOLDRepro Cressi Style Fins.  Size 10-12.  Not sure of manufacturer.  USA made.  Nice and very close to original Cressi (Healthways) fin of 1950s and 1960s.  Black rubber, in good condition.  Bit of scratches on bottom from use.    One of my favorite fins from my early diving years. ($25 plus shipping)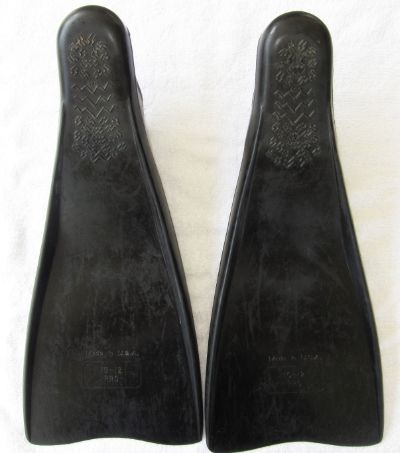 Voit Skin Diver Fins, A10
These fins are the Voit model A10 which were available from 1961 until at least 1979 (the most recent catalog I have access to).  In 1961 a model A11 was available which was the same fin in a blue color.  This fin was used in a few Sea Hunt episodes and is therefore correct for anyone wishing to do a recreation of this historic and iconic TV series.
The fins offered here are new, old stock.  They come in their original box which is in better than average condition.  They are most likely made in the later years of production, I would guess from the late 1970s or beyond.  They are size Large, which apparently fits 11-13. (That is what the box says.)
Price for these beautiful fins is $50 plus shipping.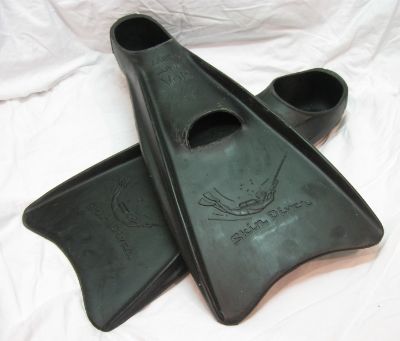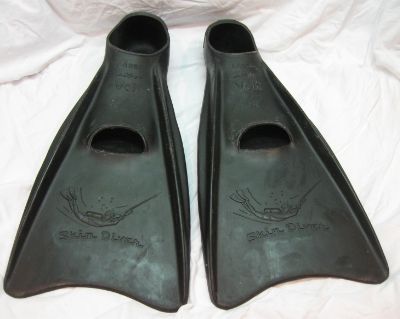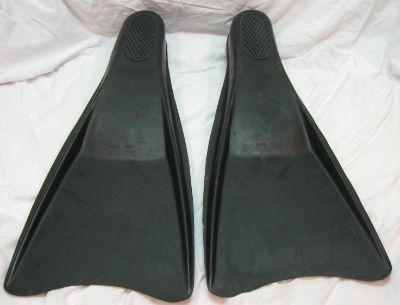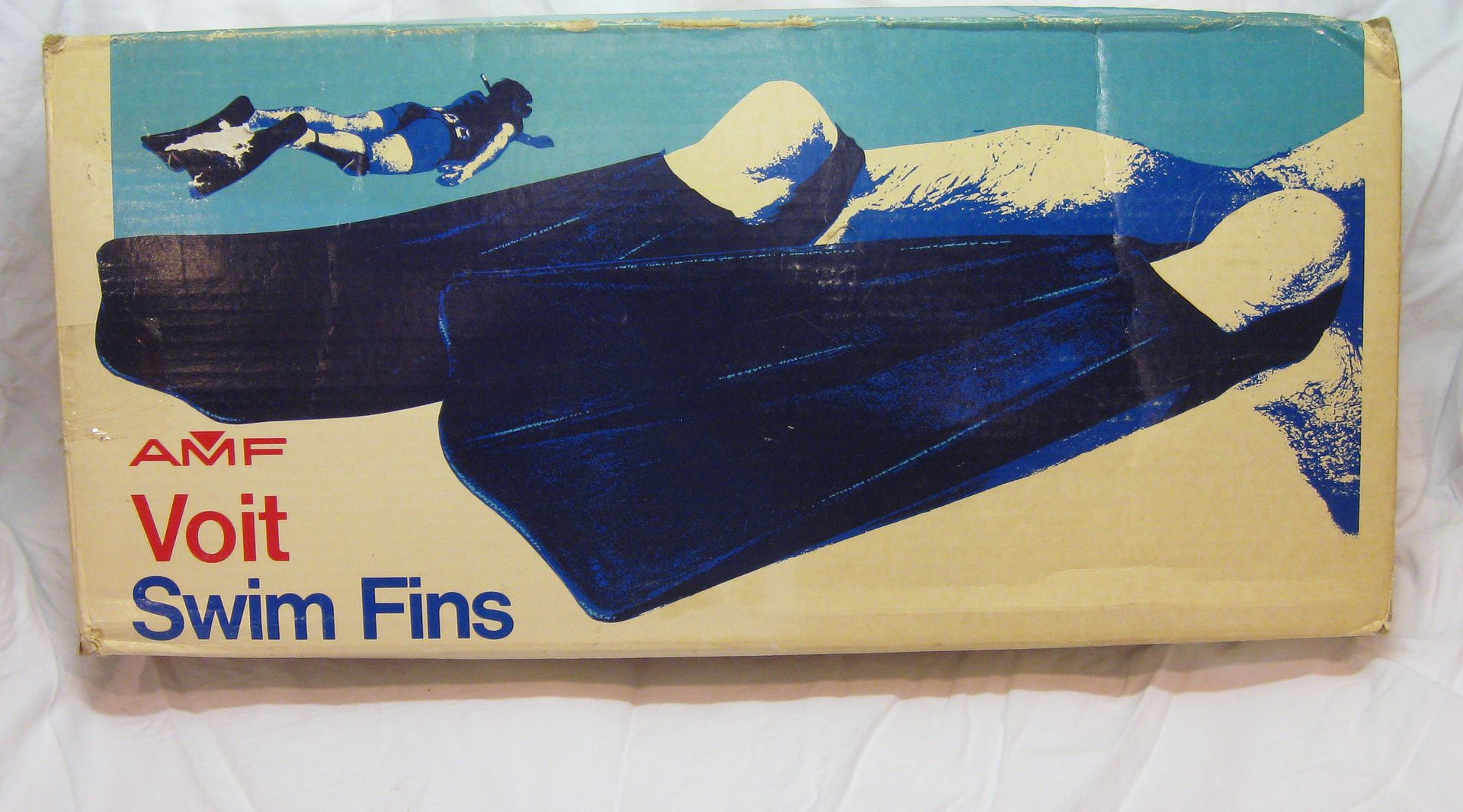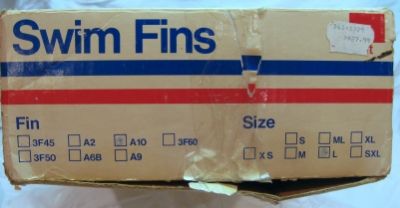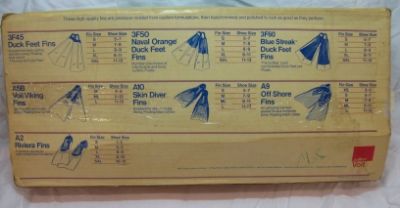 MANIFOLDS
I have a few manifolds that will fit tanks with a 6.9″ diameter.  They are all used and NOT rebuilt.
a USD solid bar  has a 3/4″ O-ring size.  Sherwood has sold AND USD IS ALSO SOLD.
SOLD, SOLD, SOLD
These two manifolds are from the 1970s.  The top one is a Sportsways, which, in my opinion, the easiest to rebuilt and install.  The manifold is sealed by O-rings and seems to always set up nice.  The other is a mix of parts, maybe a Dacor.  Sportsways $80, Dacor? $40.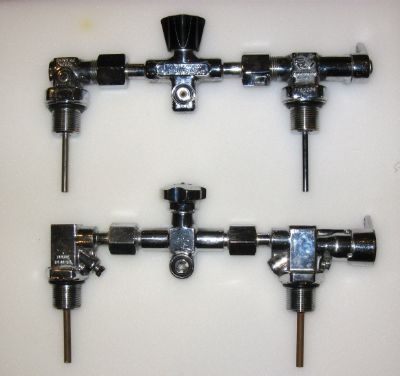 VARIOUS BACKPACKS
Of all pieces of equipment that were developed through scuba history, the method of holding the tank(s) on the diver has changed many times.  In fact, this process continues today.  A & D Adventures acquires many backpacks each year.  Listed below are a few that we have to offer.  Prices will vary, ranging from $10 to $50. If interested, please email us at aandd_adventures@yahoo.com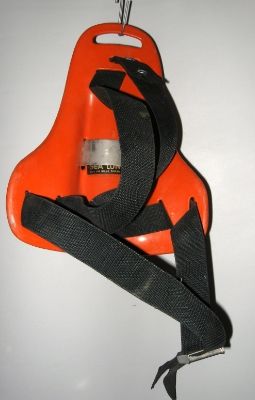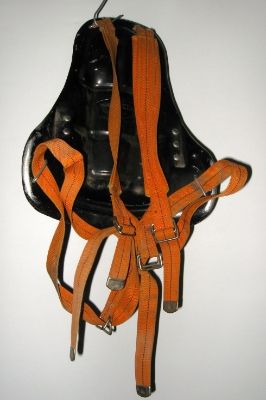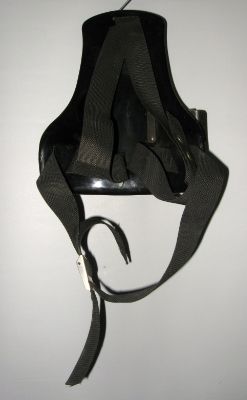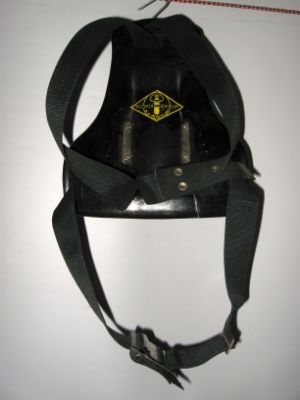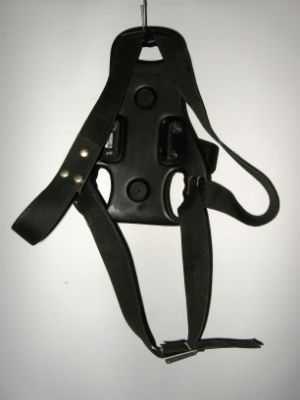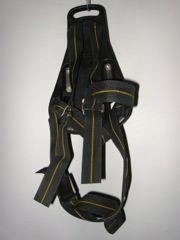 ALTERNATE HARNESS/BACKBACK SOLUTIONS
Over the past years I have obtained quite a few original backpacks and harnesses. I have used them to recreate my reproductions as accurately as possible. As these items accumulated (I take anything) a few ideas arise. Here is my latest. I have these four original backpacks/plates. They are Healthways and Sportsways.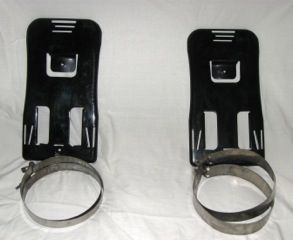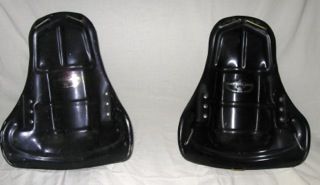 Of all the harness alternatives in the 1960s, I feel these were the best. Made of Aluminum and coated, they are very durable. Proof is in the number of them that still exist. However one of the issues for divers of today that try to use them is that the harness that came with them are just too small. My new concept is to put custom harnesses on them (like my other products) in a size that will fit.The two Sportsways have attached cam action bands: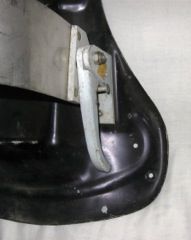 And one has been altered to fit tanks larger than the 6.9″ cylinders of the period.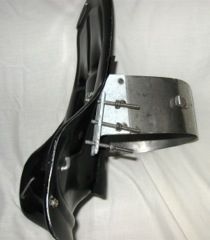 I will make a cotton harness in your color choice and size to fit any of these backpacks/plates for $65 plus shipping. The bands for the Healthways plates are not the ones that Healthways used, but still adequate for the product. That is a nice backpack with a harness that fits!!!! You get one of the backpacks and a harness.
NEW IN BOX, US DIVERS, ROYAL AQUA-MASTER SOLD, SOLD, SOLD, SOLD, SOLD, SOLD, SOLD
This is a new, never dove, in box Royal Aqua-Master. Serial number R9931. Box is almost intact, the insert for the regulator is a repro of the original. One of the hoses has a kink in it, most likely not to "unkink". Seems sitting in the box in the original configuration sets the shape. Reason for selling is that I just have enough Royals and this one is too pretty to dive. Now the bad news. Price. Asking $700. Wow, lots of $$$, but you just don't find a new one too often in 45+ years. PM if you want to discuss. I will ship in US, but otherwise, we'll have to negotiate shipping cost.

SOLD SOLD SOLD

REPRODUCTION OF US DIVERS VULCAN KNIFEWhen we did the 2008 and 2011 Sea Hunt shows at Silver Springs, FL, we discovered that one of the knives "Mike Nelson" used was the USD Vulcan.  In order to accurately and authentically present a celebration of the TV show, we learned that original Vulcans were expensive and in poor condition, at least for our use.  Thus, I started to make a reproduction and have done so for these past 6 years.  The knife I show here is one of my latest.  It is almost completely had made of stainless steel (blade, guard and pommel, sheath fittings), Delrin plastic (handle), PVC (sheath) and cotton webbing (sheath).  The knife and sheath are very close to the originals.  My Vulcan knife is great for reenacting any Sea Hunt character or as a collectable.  The price is $85 plus Shipping.  

SOLD, SOLD, SOLD  Out of stock.